So you've booked Old Town Manor as your lodging wedding headquarters. Congratulations! Now it's time to assign the rooms.
As host, you know your guests' needs and requests better than we do, so who better than to be in charge of room assignments than you? With your room block or buy-out, we send you a detailed rooms' manifest and property to map to help you determine who goes where. As we understand this can be as challenging as a putting together a puzzle, we offer a few tips to help you in this process.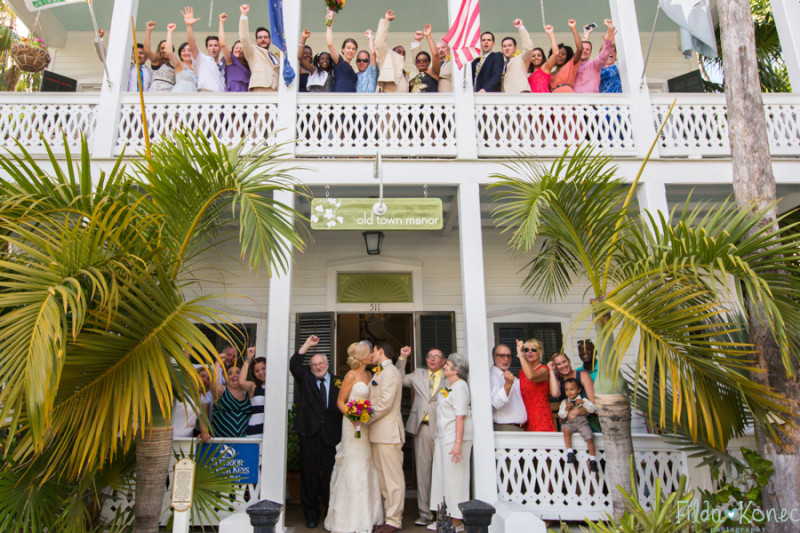 Property Map
Old Town Manor is a collection of 14 unique guest rooms: ten rooms in the home: six upstairs, and four downstairs. The Carriage house in the back gardens houses the remaining four rooms. All rooms are equipped with a minimum of a queen bed, it's own private bathroom, room-controlled A/C unit, coffee maker, mini-refrigerator, and environmentally friendly body products. A continental breakfast is included, too!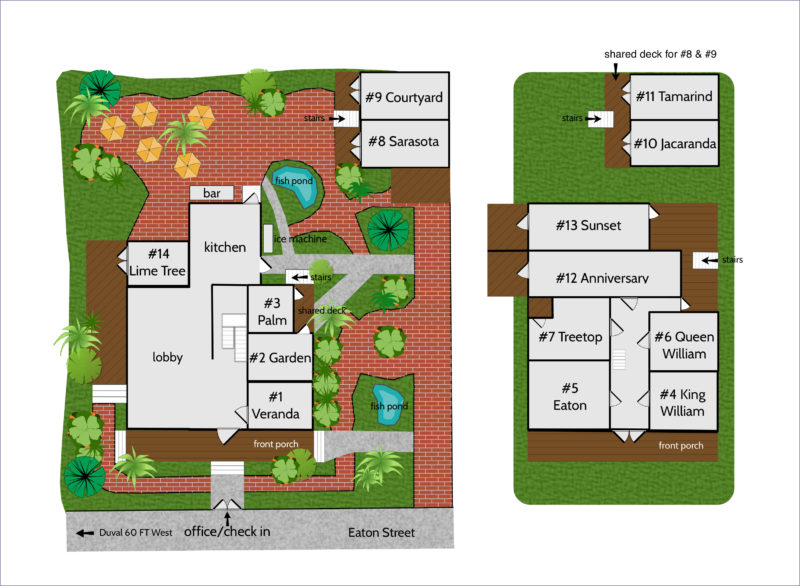 The Couple's Room
There are three rooms that we find work best for the wedding couple based on size and location.  
Located on the second floor and spanning the width of Old Town Manor, Anniversary is the largest room in the home. The additional space means this room is ready for the hair-and-makeup team to prep the bridal party. With an antique four-poster bed and private balcony, this room is a classic setting for a romantic weekend.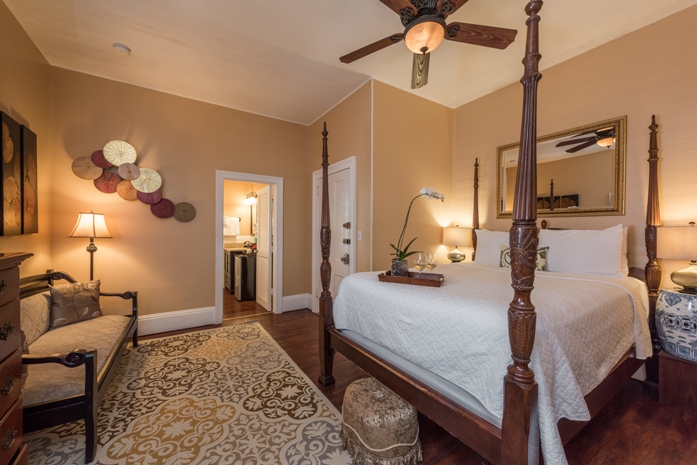 Located on the bottom floor of the Carriage house, this room is our only suite. It features a spacious living area, king bed, sofa sleeper, and overlooks the back gardens. A semi-private patio is perfect for having breakfast al fresco with your closest guests! For the DIY couple who prefers to bring their own decor for an event, Saratoga provides both space and a convenient location to the event space. This one was renovated in September 2017.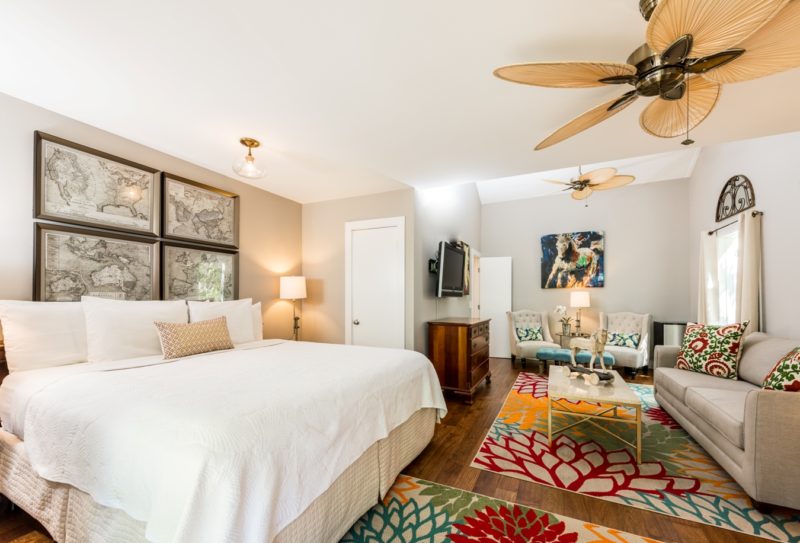 Also renovated in September 2017, the Limetree room is the most secluded on the property. A private walkway and large deck with an intimate table and chairs for two make this room perfect for the couple who prefers to enjoy a private oasis away from their wedding guests. This rooms is also ideal if traveling with pets.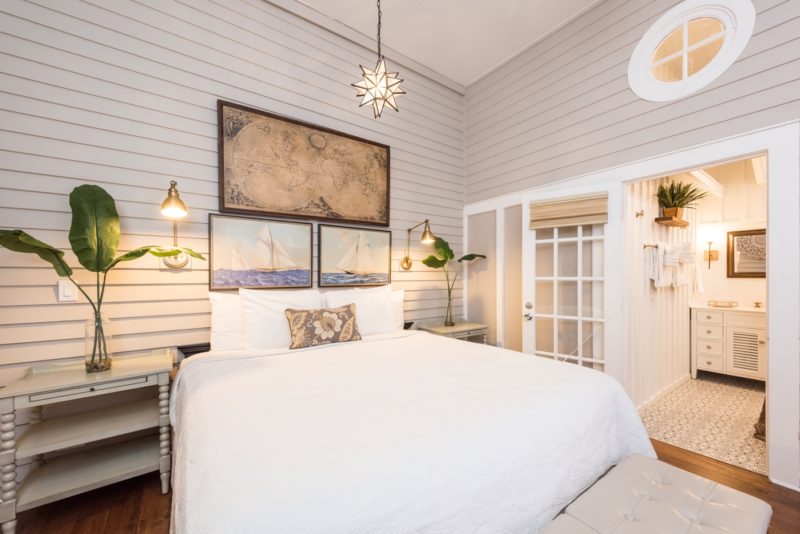 Fellow Lovebirds
The most unique in design, this room is built around the home's original freshwater cistern. With two balconies overlooking the back garden, we recommend this room is for a newly married couple or parents of the host.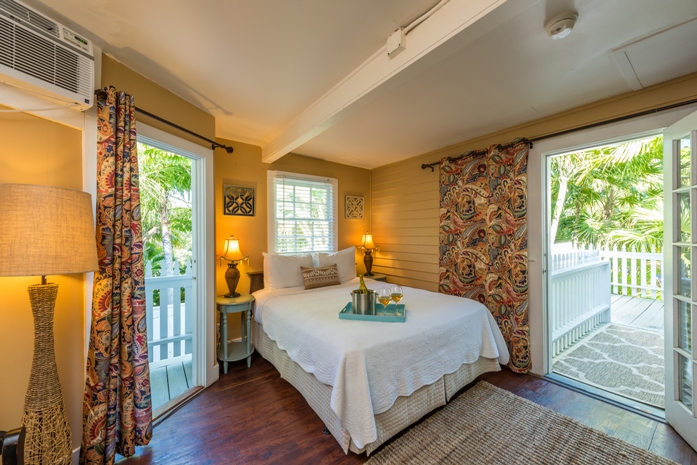 Couples Traveling Together
 Jacaranda Room and Tamarind Room
Named after local tropical trees, these rooms are located on the second floor of the Carriage House. Both rooms are similar in size and the shared balcony lend a casual setting for couples who are well acquainted to share morning coffee or a late night cocktail!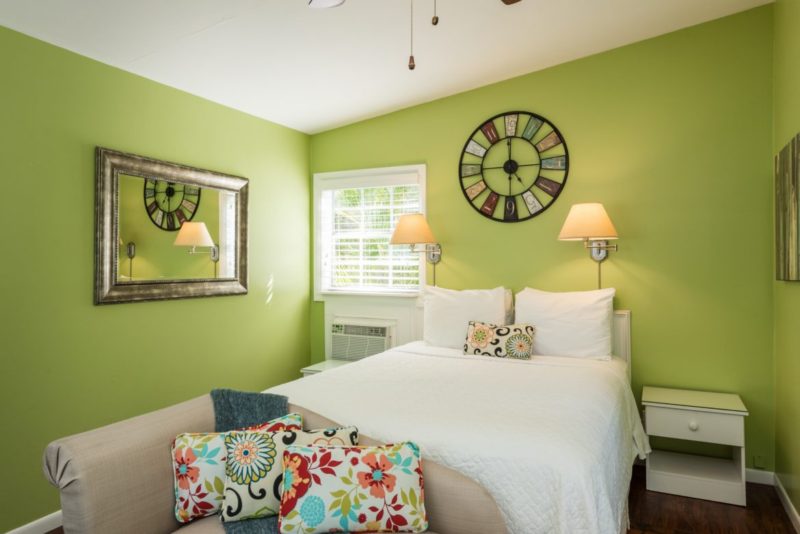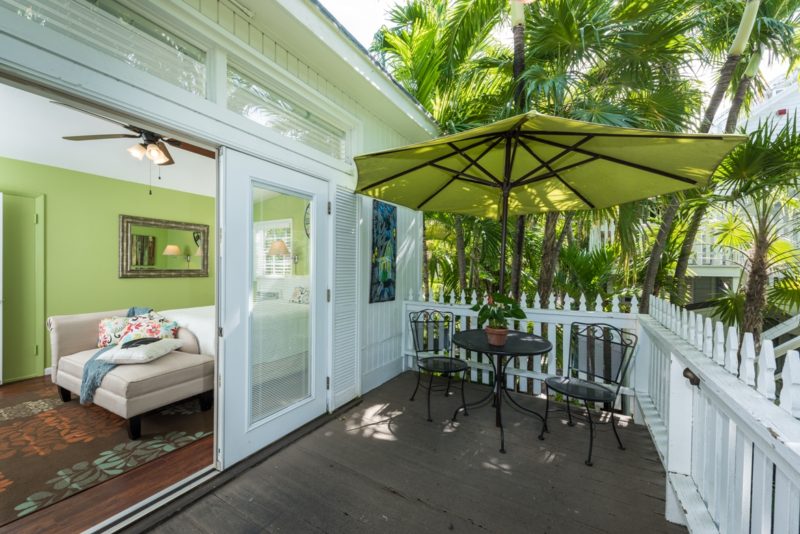 Nice and Easy
We all love those wedding guests who are as flexible and open as you as host need them to be! These guests are comfortable anywhere and these rooms are anything but ordinary:
King William Room and Eaton Room
These traditional rooms are located on the second floor of the home, facing Eaton Street. Lots of natural night filters past the shared balcony, furnished with rocking chairs. Each room has a king bed and work well for parents of the couple.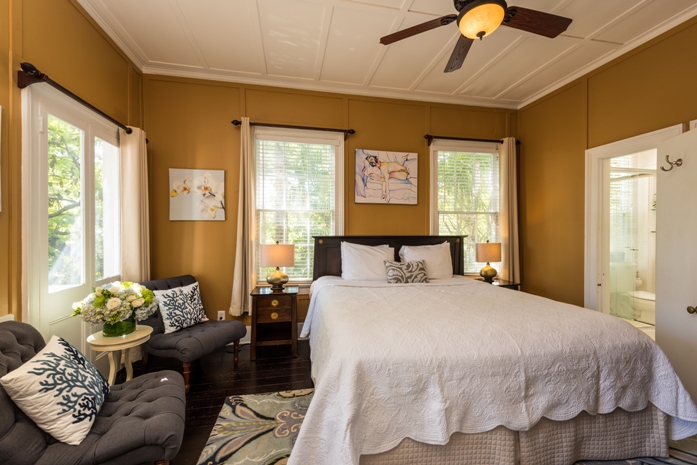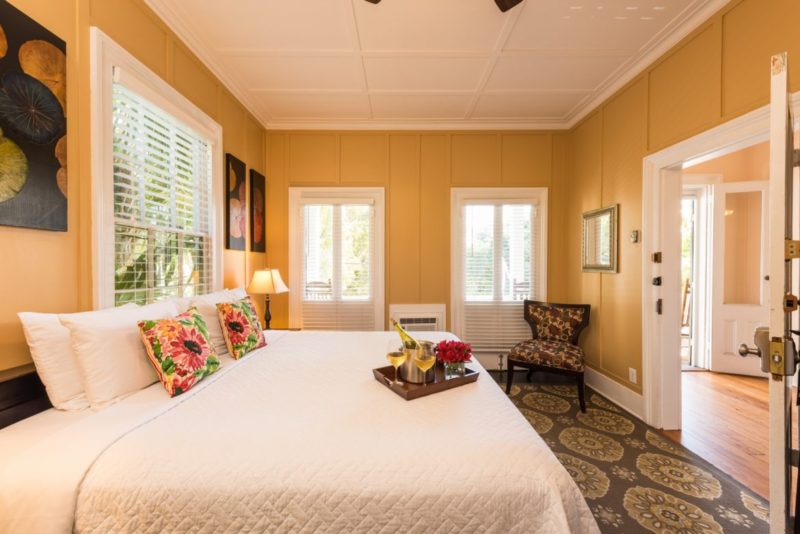 Located in the middle of the home on the second floor, this cozy room has a private balcony for two in the trees.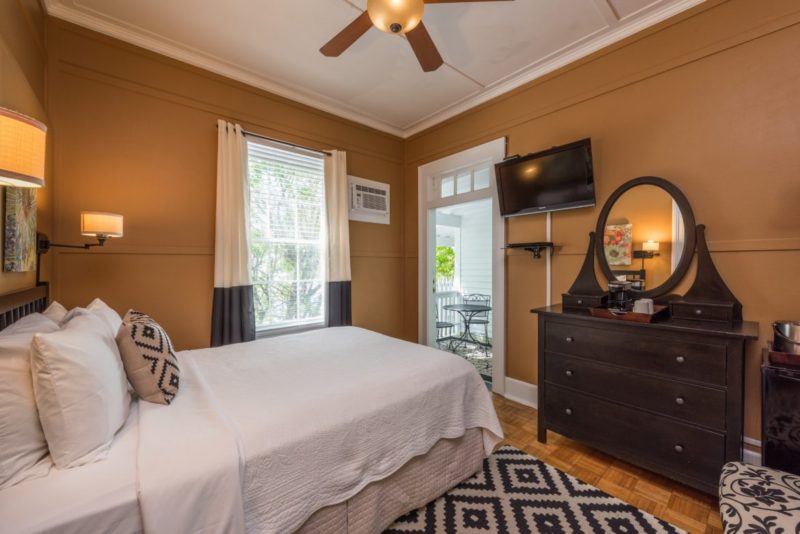 Guest Flying Solo
Located right off the lobby and main sitting area, the Veranda room is considered the least private. Smallest in size, this recently updates room accommodates your solo guest with ease. Perfect for a brother or cousin!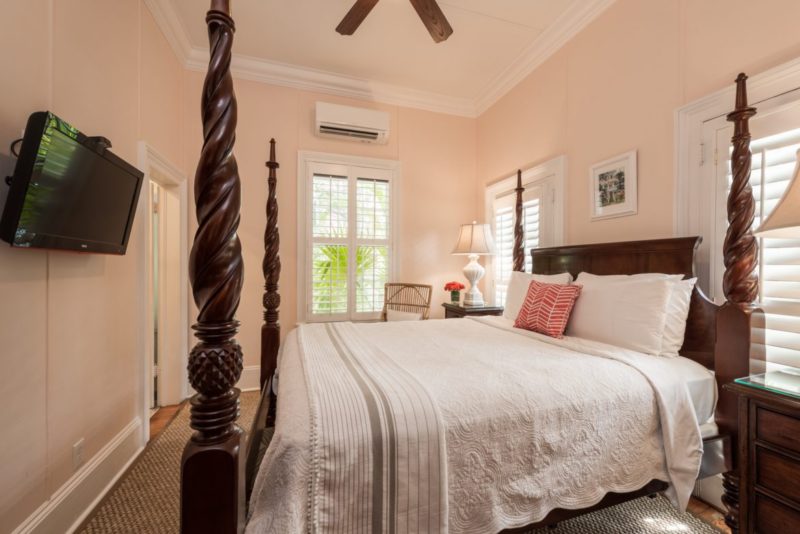 Our second smallest room, Queen William is located on the second floor. This room works well for a solo sister who enjoys a spacious bathroom for a night on Duval Street!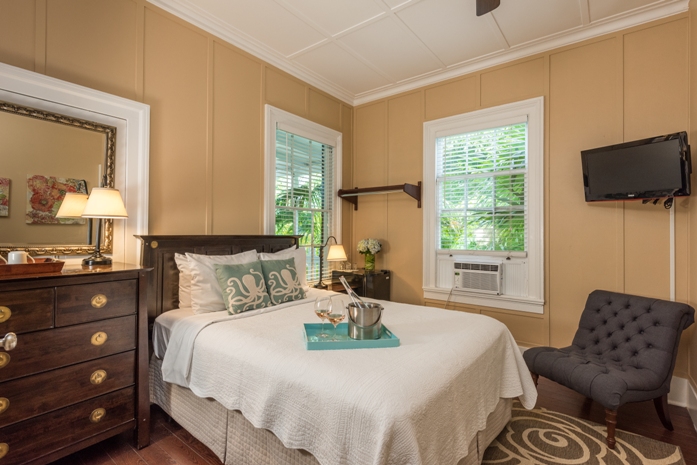 Kids or Singles Traveling Together
Typically, Old Town Manor is an adult-only (16 years and older) property; however, when hosting a Buy-Out of all 14-rooms, the property is yours and all ages are welcome. Consider these rooms for guests traveling with children. These rooms also work well for friends traveling together who do not wish to share a bed.
This room has a queen and a twin located on the side of the home with outside entry. An ideal choice for guests who like to stay out on Duval Street a little later than most.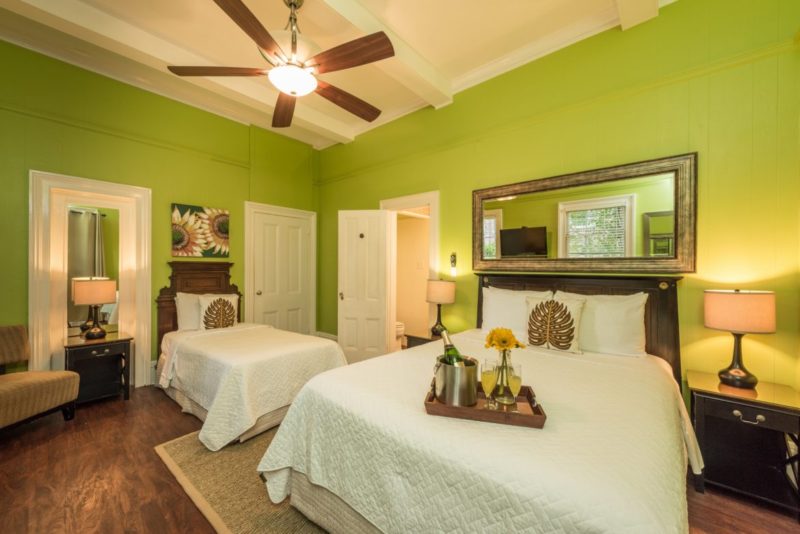 Large and spacious, this room has a King bed and a living area with a sofa sleeper. Offers a private deck with table and chairs on the first floor.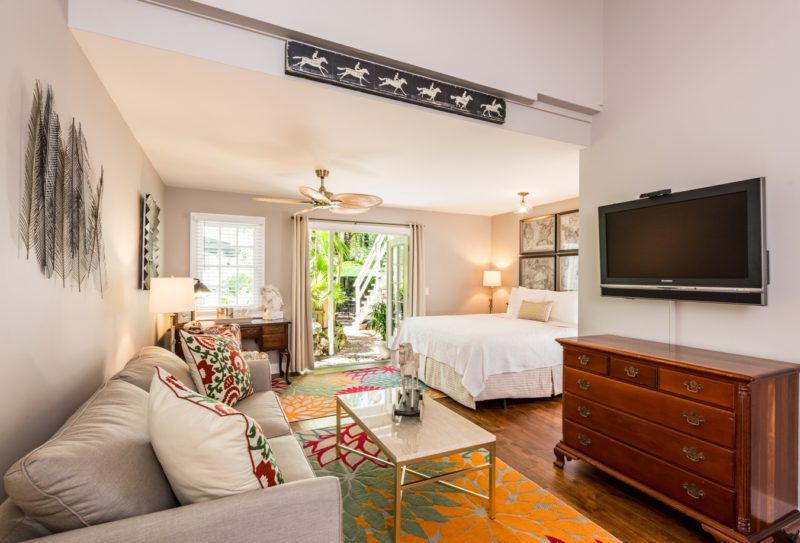 Two queens in this room make it the perfect space for couples traveling with teenagers or a grandparent. Located on the first floor of the Carriage house, this room also has a cozy sitting area and highly recommended for large breed dogs.
Bringing Fido
All of our rooms are pet-friendly, but some are more conducive than others to make your 4-legged friend enjoy their stay as well. Key West is dog-friendly! Ask our front desk for our list of dog-friendly restaurants and bars when taking Fido out on the town!
With a King bed with private entry, this lodging choice is only a short distance into our property. Shared a semi-private porch with just one one other room, the Palm room offers Fido the opportunity to sit with you and enjoy your morning coffee.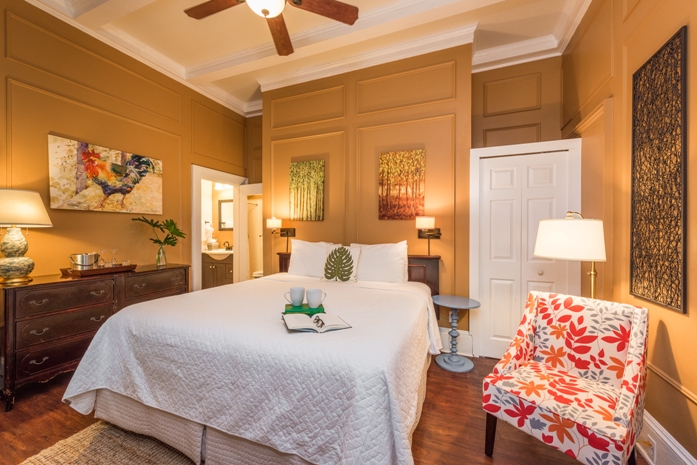 Also recommended are our Garden and Limetree rooms, both with outside entry.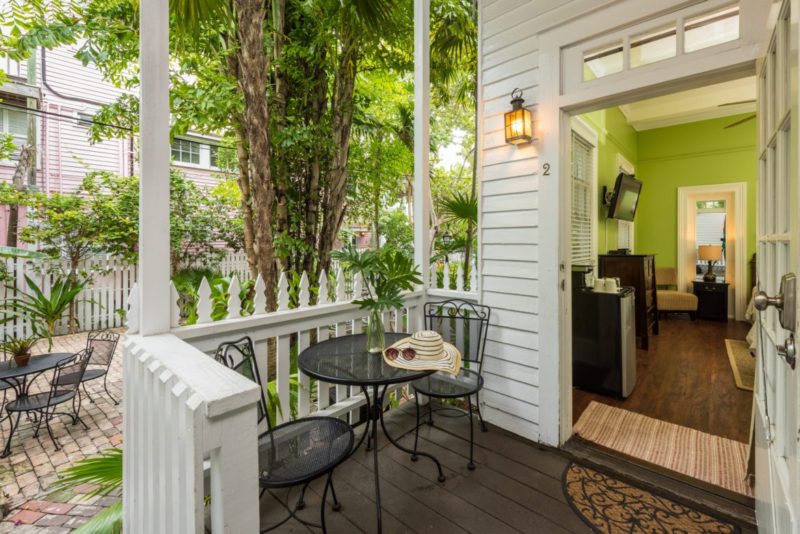 Once your Manifest is completed, your guests can find comfort in knowing they have secured lodging for your wedding weekend. They do not have to pay in full until 30-days prior to arrival. Many guests will use your wedding as an excuse for a Key West vacation, so, if your guests wish to stay longer than your three-night block, have them call us right away to add additional nights!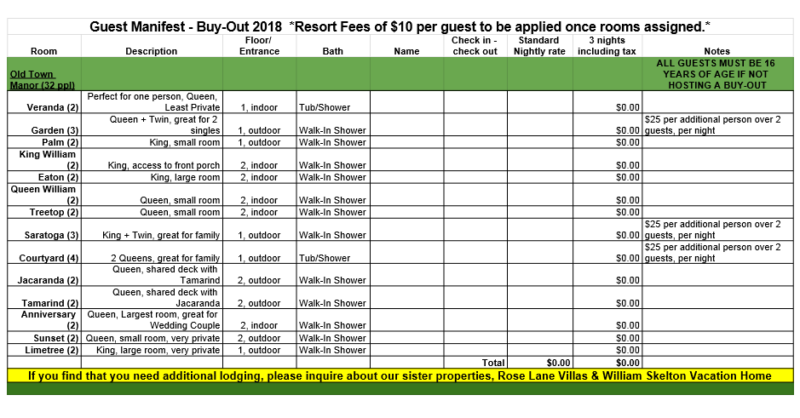 Happy Planning!