After you get engaged, there are 2 questions everyone asks.  First, when will you get married?  And second, where?  Will your wedding be in your hometown, or is a destination wedding the way to go?
You can't tackle the first question until you know the second!  Selecting your wedding venue can be easy for some, but tricky for most.
First, the site for your wedding should mean something to you and your partner.  From a beach in Hawaii, to a church in Wisconsin, to a garden ceremony in Key West (our personal favorite!), it should reflect your personalities.  Do you love nature?  The ocean?  Architecture?  Let your passions influence your decision.
Second, do you want to create an experience over a few days, or have a one day affair?  While they both require the same amount of planning, a destination wedding typically brings your guests to one hotel or bed and breakfast where you'll enjoy time with your guests before and after the event. It gives you an opportunity to "vacation" with your closest comrades as a newly married couple.
Third, making a guest list isn't as easy as you would think.  Do you expect 30 people?  Over 50?  More than 100?  The smaller the list, the easier a destination wedding will be.  Your friend from high school with whom you haven't spoken to in 10 years may come to your wedding if it was 10 minutes away, but may not attend the destination wedding weekend in Key West.
And finally, how much time are you willing and able to spend planning?  Most destination wedding locations offer packages to allow for one-stop shopping.  These packages will often include an officiant, flowers, musicians, etc for one price.  Other packages might include accommodations and use of event space while offering a "preferred vendor list" to couples that have booked with them, like the wedding packages we offer at Old Town Manor Weddings.
Make sure you take all of the options into consideration when planning for your big day.  It's one you'll remember forever.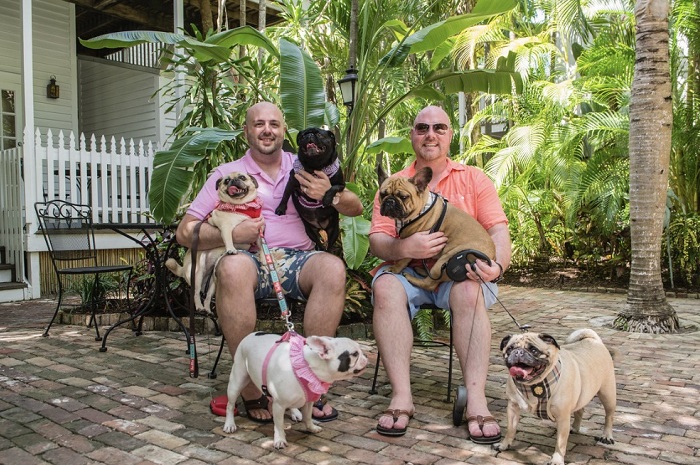 Photo by Karrie Porter Photography
View our Weddings Calendar or go back to our Key West Weddings home page.