Whether it be the beach, a nautical ballroom, or historic garden, we're dishing on the best places to get hitched in Key West.
Before we dive into the list, we must share the breaking news!! The much-coveted weekend of March 24, 2016 just became available at Old Town Manor.  If your group is less than 75, book the Manor for your guests to party all night.  If you have more than 75, book the Manor's guest rooms as your wedding headquarters, and let's continue onto the list …
If you've been doing your research, you know that there are a variety of choices when it comes to Key West wedding venues.  We have gardens, beaches, ballrooms, piers, museums, tall ships and historic homes.  Old Town Manor is the bees knees for intimate groups but if you have more than 75 guests, check out our list of Top 5 Key West Wedding Venues!
Favorite Historic Venue: Oldest House Museum & Gardens
Located just a stone's throw from the Manor, the Oldest House is as historic as it gets! Built in the year 1829 (or close to it), the house was home to Captain Francis Watlington, his wife and nine daughters.  It was passed down through many generation until 1936 when it was sold. It is now a museum and garden open to the public for tours throughout the week.  After hours, this makes a great ceremony or reception site for your wedding. The lush lawn and historic brick boasts a rustic garden setting for your group of 100.  Photo Credit: Jason Mize Photography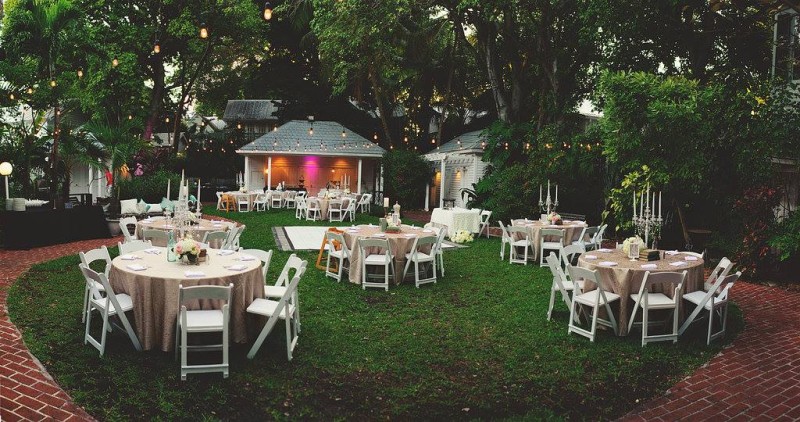 Favorite Beach Venue: Fort Zachary Taylor State Park
This State Park is also the site of some of our most pristine beaches on the island .  Add the natural greenery and bright blue water and you get a picture perfect wedding ceremony setting. Fort Zach, as the locals call it, offers a few different sites to choose from around the beach.  Taking pictures inside of the historic brick Fort is also a favorite among couples and their photographers.  Photo Credit: Blueye Images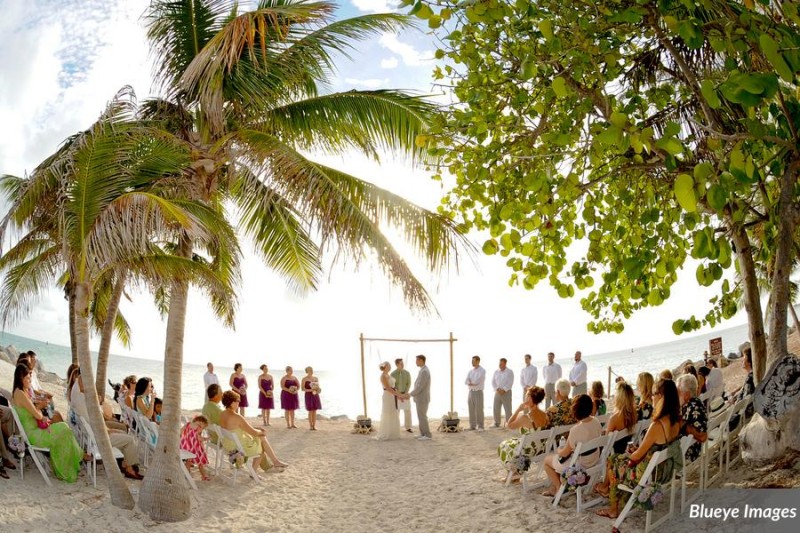 Favorite Indoor Venue: Hyatt Key West – Marquesa Room
Let's face it.  Some summer months in Florida are down-right unbearable. But, this is when the travel rates are lowest.  If you can't take the heat, finding indoor Key West wedding venues should be your priority this time of year. While some ballrooms feel sterile and bland, the Hyatt's Marquesa Room is the opposite.  The wooden beam work gives the nautical style that many look for in Key West.  Lined with large windows and a wrap around balcony, your 75 guests will feel like they are on the water in the comfort of air conditioning.
Photo Credit: Margot Landen Photography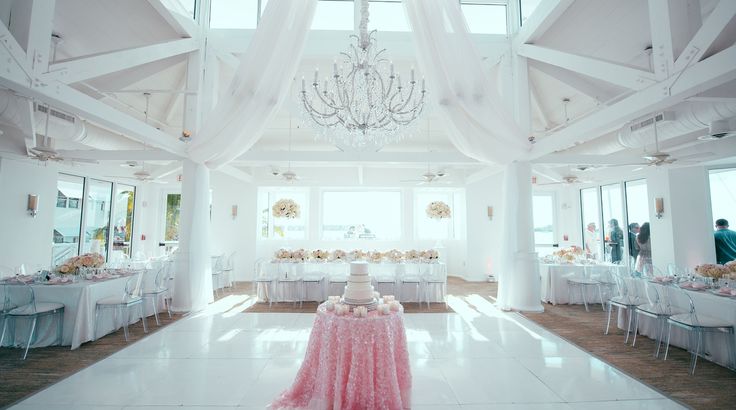 Favorite Waterside Venue: Ocean Key Sunset Pier
One of the most recognizable landmarks in Key West, Sunset Pier is an extension of Ocean Key Resort.  The wooden pier juts out into the ocean with views of iconic Sunset Key. On any typical night, this is a great choice to watch the sunset while listening to live music. Hosting your wedding under a private tent at the end of this pier will make you feel like royalty. You couldn't ask for a better view for your wedding guests and with an address of Zero Duval Street, they'll never get lost!  Photo: Meghan Rowe Photography, Nick Doll Photography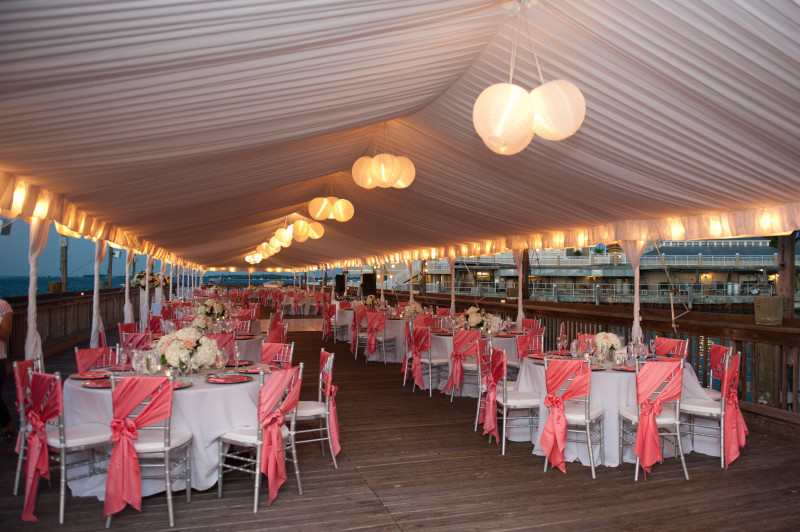 Favorite Garden Venue: Key West Garden Club
West Martello Tower showcases the Key West Garden Club's variety of native and exotic plants throughout this expansive property. This was once a civil war fort which now has crumbling brick walls.  The garden is located at Higgs Beach, on the East side of the island, and is an easy Trolley ride from your accommodations at the Manor.  Their banyan tree is an incredible ceremony backdrops.  Photo: Mary Veal Photography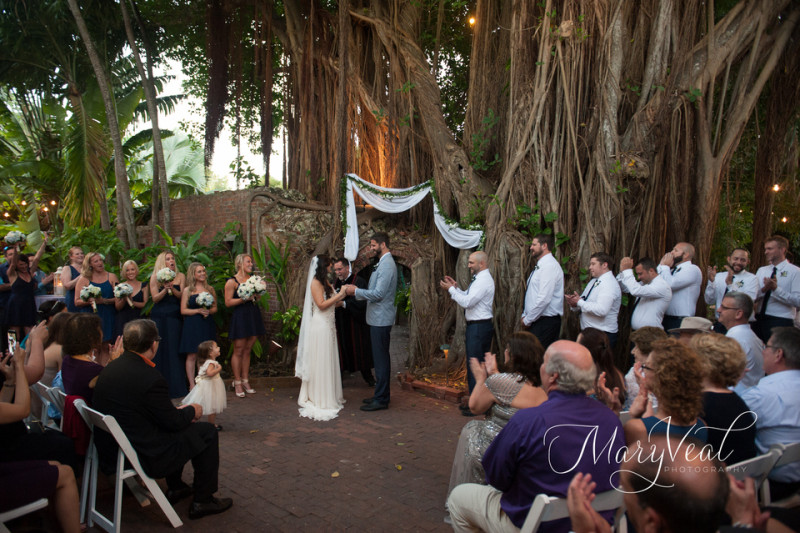 All of our Key West wedding venue picks are in within a short distance from Old Town Manor.  We specialize in offering group accommodations to you and your guests.  Creating a private "Wedding Headquarters" at the Manor adds a personal and familiar touch, while providing your guests a quintessential Key West experience  Happy Planning!