Kim and Josh of Virginia hosted friends and family in true Key West,  laid-back fashion for their wedding weekend this April. Renting the neighboring Old Town Manor and William Skelton House, the 46 guests were quite comfortable.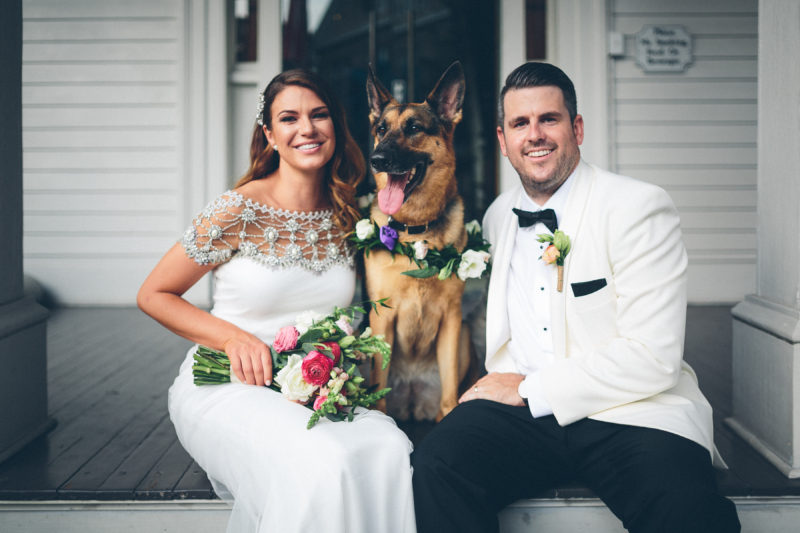 Many of the guests who stayed at the Manor and the William Skelton House attended James Madison University. The couple insisted on showing off their school colors to Key West! Upon arrival, their college friends were thrilled to see their Alma Mater waving in the wind.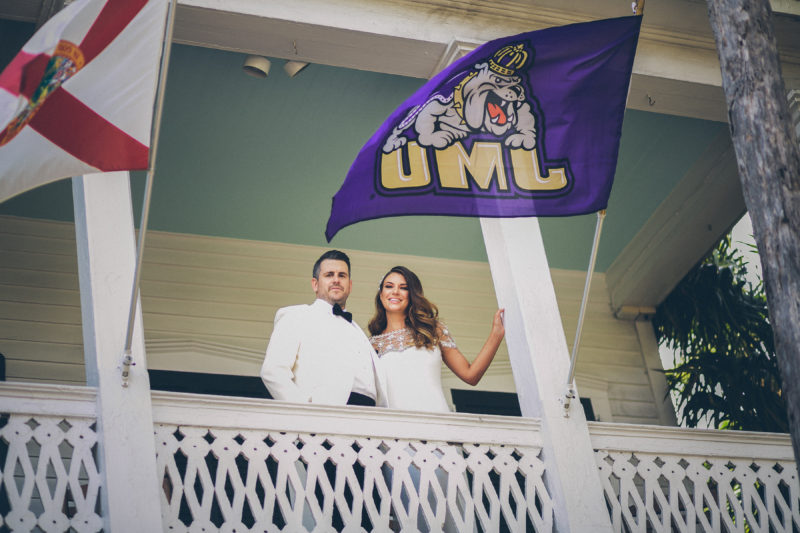 Gloria and her team, Beauty By Glo, felt our lobby area provided the best lighting for hair and makeup. So, we moved some furniture around and the pampering began!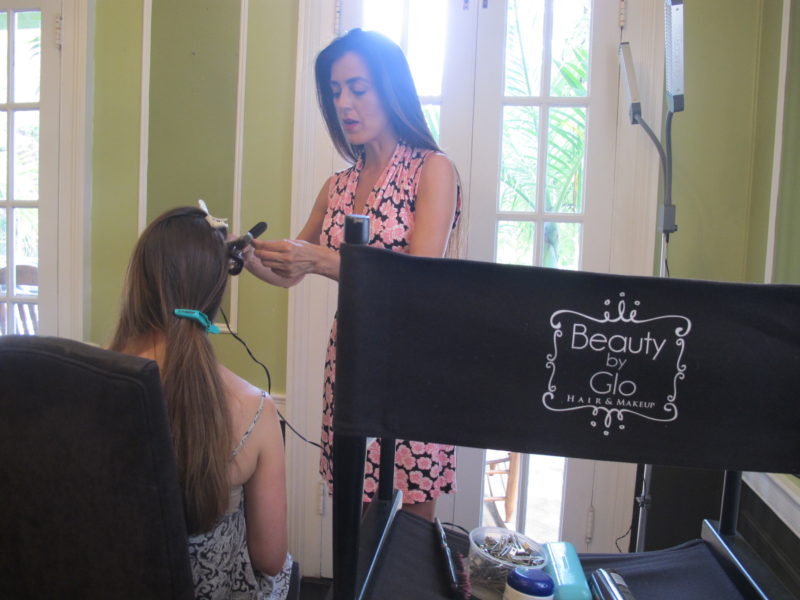 Kim and her girls enjoyed the morning with mimosas and brunch provided by the mothers of the wedding couple.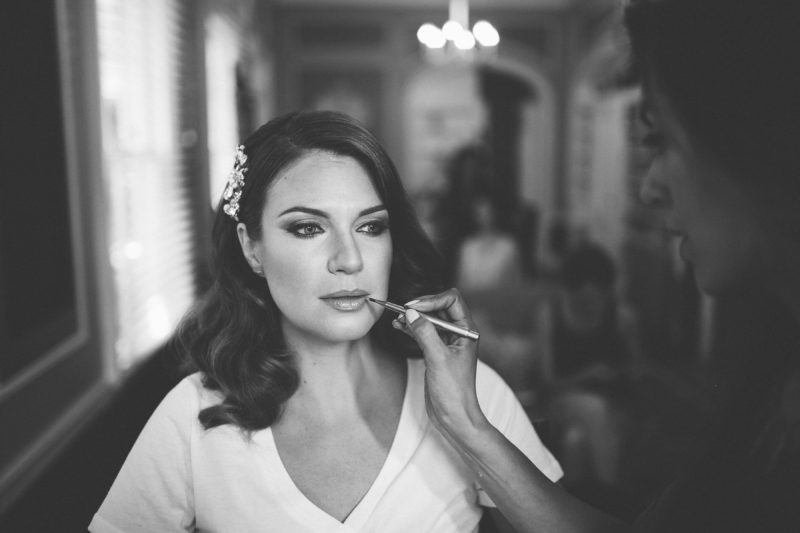 Even with 14 guest rooms as Old Town Manor, the couple needed additional lodging for their closest friends. No worries! The couple chose the William Skelton House, right next door to Old Town Manor, to house 14 additional guests. The "Pink House," as it is affectionately called, is a 6 bedroom, 4 bath, three story Key West home.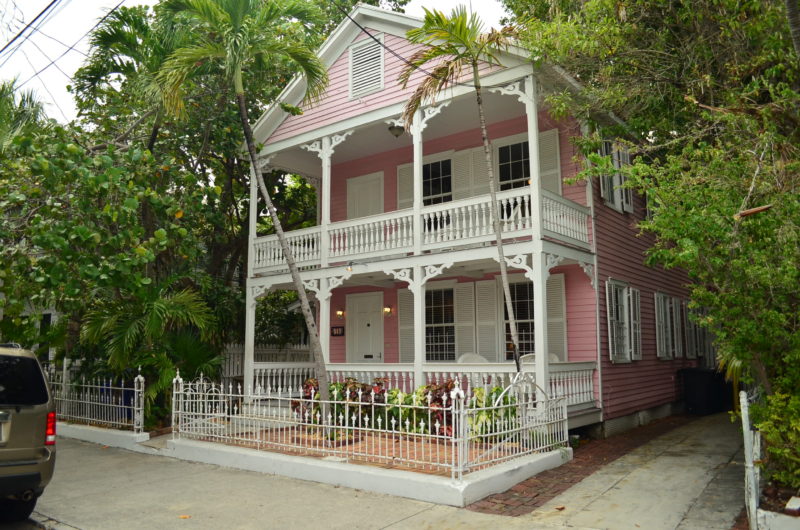 Built in the 1830s, the William Skelton Home is one of the oldest houses on the island. Exposed Dade County Pine walls, private porches, and a private pool are some of the unique features found in this spacious home. Josh and his gentlemen prepped for the big day at the Pink House while the girls were next door at the Manor.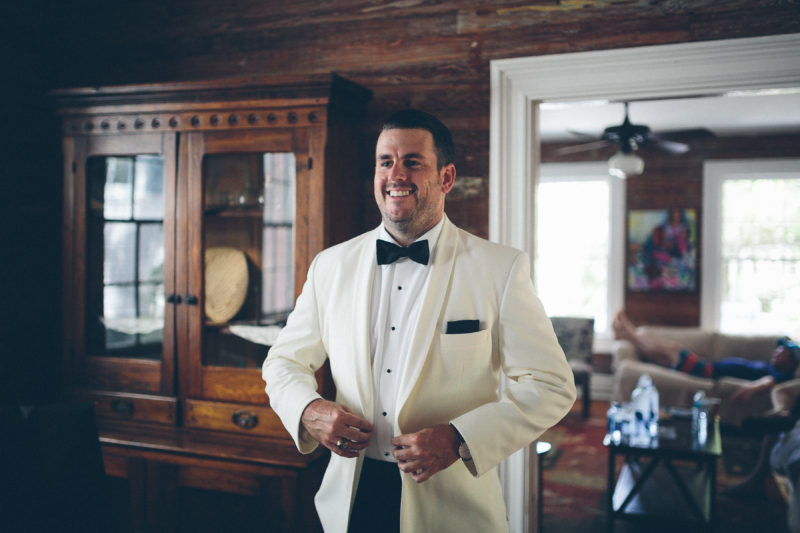 Kim adorned a beautiful hand-tied bouquet of hot pink ranunculus, white roses, lisianthus, and pink snapdragons. Accents of silver-dollar eucalyptus and italian ruscus greenery added contrast. Duarte Floral Designs captures the "gathered garden" look with ease.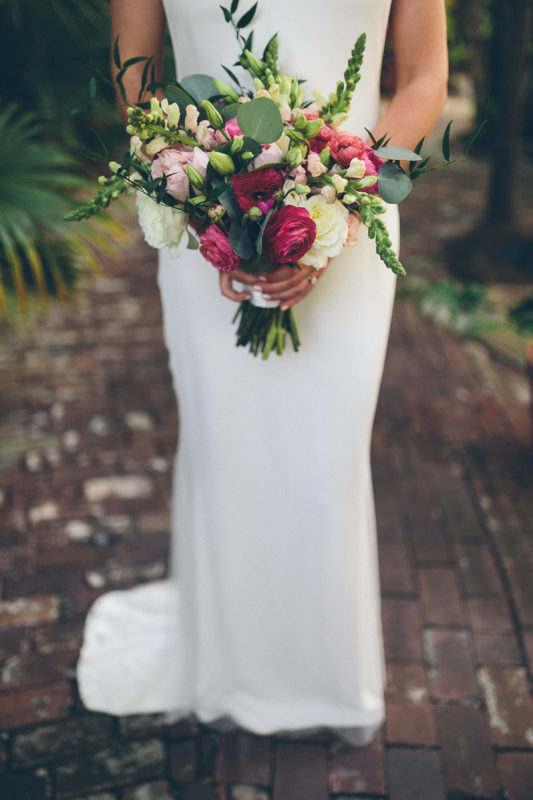 Our favorite guest (besides the wedding couple, of course) adorned a wreath of lisianthus, roses, and italian ruscus for the big day. She stole our hearts at the ceremony!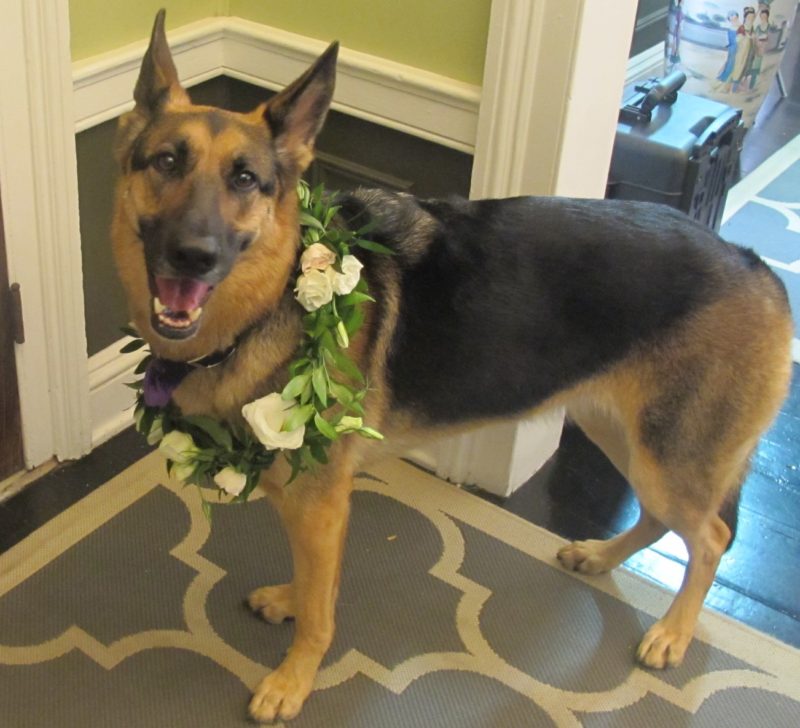 Daniel Lateulade Photography is a true favorite in South Florida and captures our tropical gardens as a perfect setting for the "first look" picture we all love!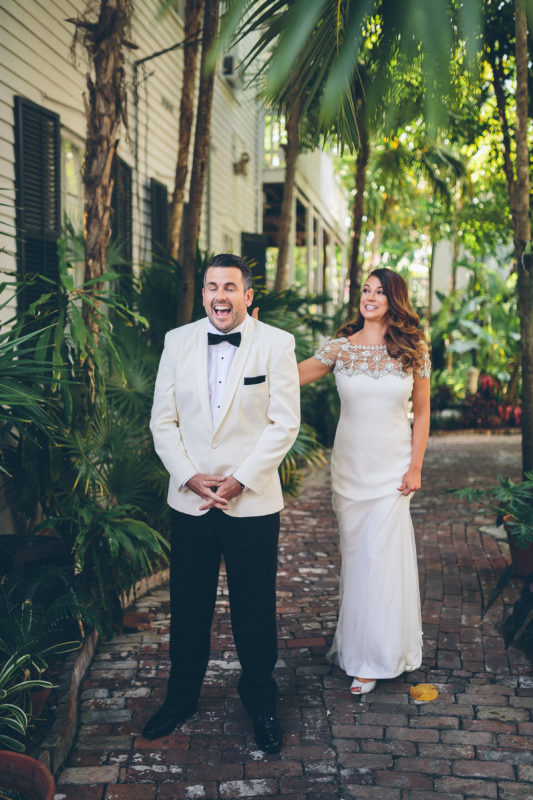 As the wedding group strolled Duval street, they spotted a fun spot new to Key West, the Gas Monkey Bar, and dropped in for drinks. The setting was so perfect for wedding day pictures, they decided to go back.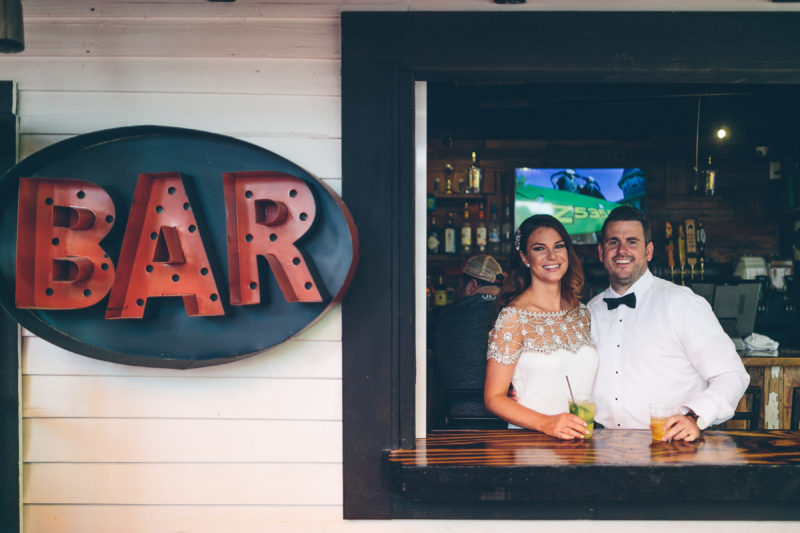 We called Perfect Pedi Cabs to pick up the wedding party.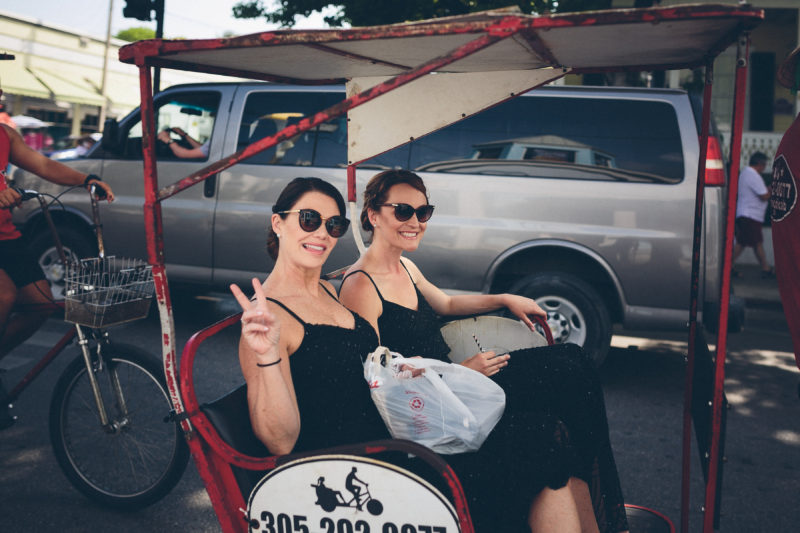 What a perfect way to show off your group to Old Town Key West!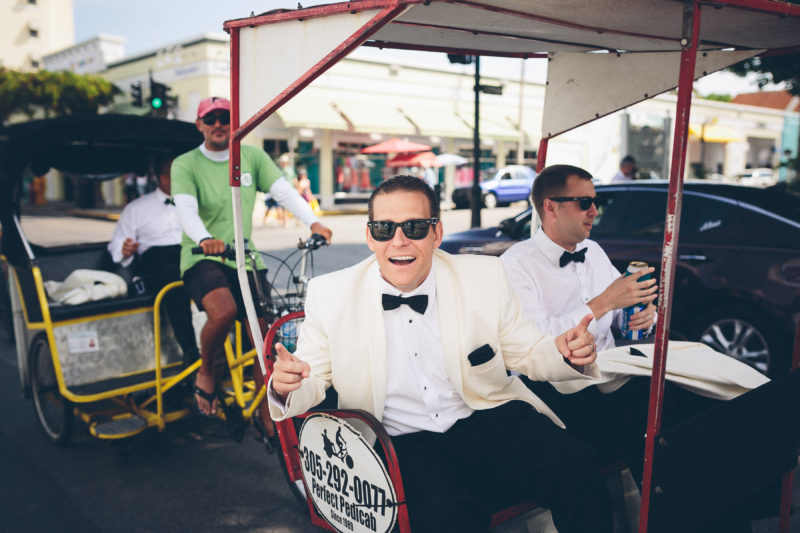 They met some well-wishing locals at the bar who posed for a picture with Kim!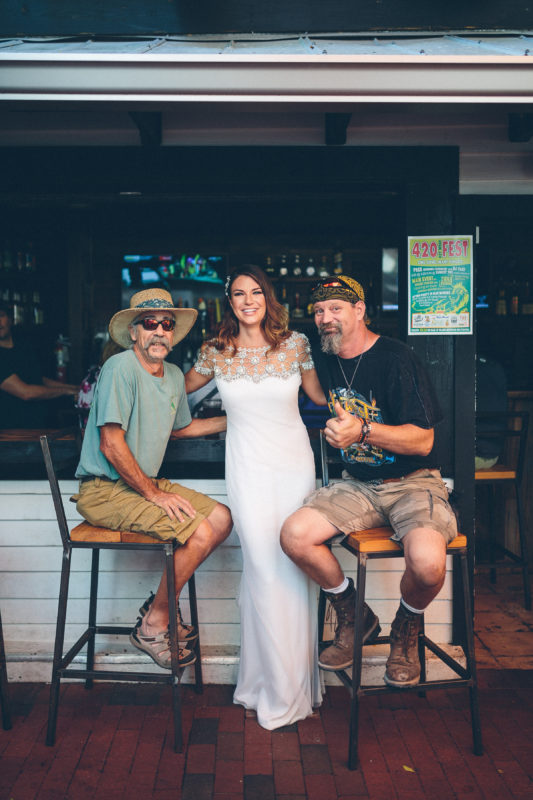 Here at Old Town Manor, we can host a ceremony for up to 50 guest and a casual reception for 75 guest.  As Kim and Josh had more family to invite, they decided on the Audubon House for their wedding ceremony and reception.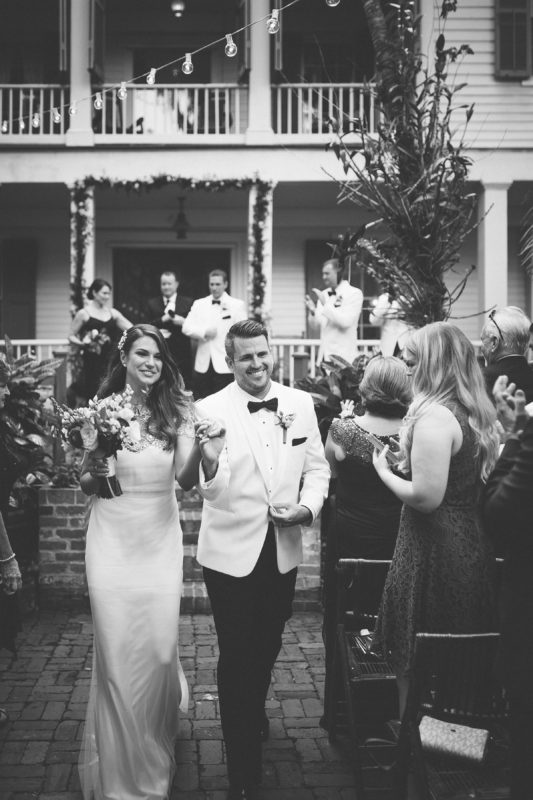 A beautiful outdoor setting a short walk away, the couple exchanged vows on the front porch. Once again, their German Shepard stole the show!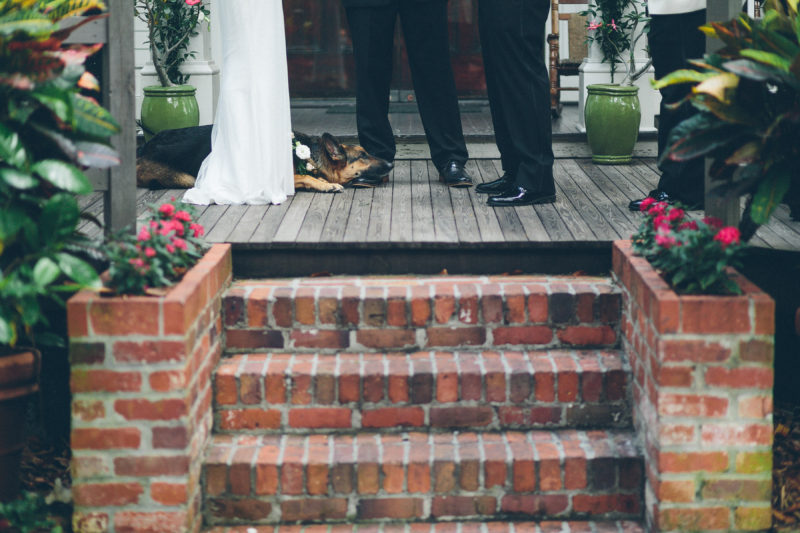 The production of hand-rolled cigars was Key West's largest and most influential industry in the 19th and early 20th century. Cigar shops can still be found on Duval Street and procuring one is a must while visiting Key West. And, of course, Key West cigars are a great way to toast your new nuptials!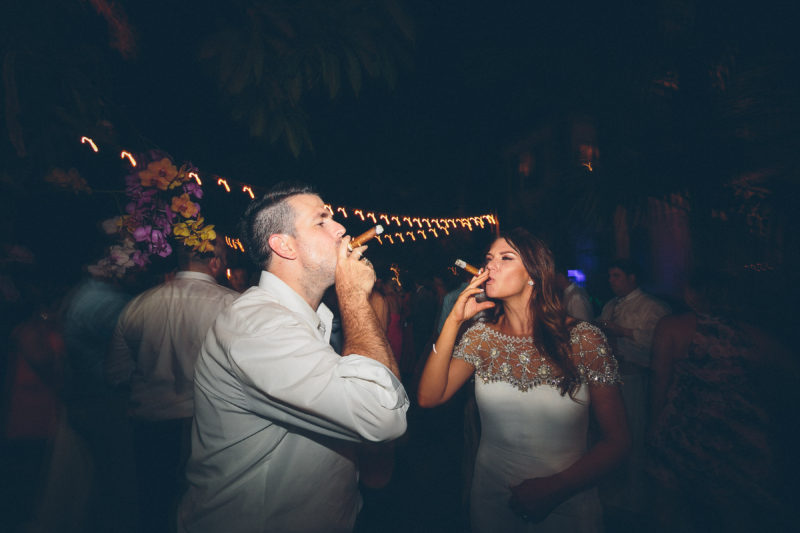 Cheers, Kim and Josh!
Ready to start planning your Key West wedding? Check out our other Old Town Manor Wedding blogs for ideas and inspiration, and contact us for a quote!